Software
Facepager
Facepager was designed for fetching public available data from Facebook, Twitter and other JSON-based API. All data is stored in a local SQLite database and may be exported to csv. Visit the "Help" dialog of the tool for a more detailed introduction and further information.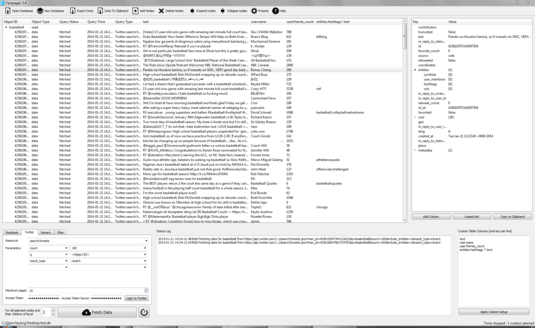 Facepager was inventend by Till Keyling in 2011 and is actively developed and maintained by Jakob Jünger & Till Keyling. It is free of charge and open-sourced.
We suggest the following citation when using the Facepager in an academic or commercial context.
Keyling, Till; Jünger, Jakob (2013). Facepager (Version, f.e. 3.3). An application for generic data retrieval through APIs. Source code available from https://github.com/strohne/Facepager.
Binaries/Installer
Facepager is available for Windows and Mac OS X. [Instructions: Unzip the ZIP-Archive and launch the installer]
Windows Installer:
Mac OS X Packages:
Instructions: Unzipp the file, drag & drop the App to your "Applications" folder. When a warning about the the source pop's up you should allow the installation of non-app-store applications (go to "System Preferrences>Security & Privacy" and check "Anywhere"). If you do not want to change your security settings permanently, you may open the Facepager by CTRL+Click on the icon (each time on startup).
Sourcecode
For development version, contribution and the most recent news, see our github repository at https://github.com/strohne/Facepager
---